Strengthening Families Program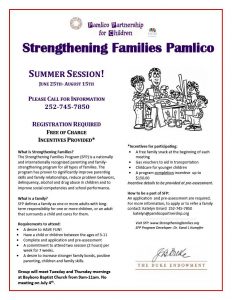 Pamlico Partnership for Children has partnered with the Duke Endowment to bring The Strengthening Families Program to the Pamlico Community. This program is a nationally and internationally recognized parenting and family strengthening program for families. SFP is an evidence-based family skills training program found to significantly improve parenting skills and family relationships, reduce problem behaviors, delinquency and alcohol and drug abuse in children and to improve social competencies and school performance.
The program serves 8-10 families for 14 weekly sessions, followed by 2 booster sessions. Each of the 2 hour sessions starts with a Family Meal followed by "break out" groups for Adult Skills and Child Skills, the session wraps up with Family Skills where the family gathers back together to have fun and practice the skills they have learned.
What a difference SFP can make in the lives of children and families, while having enjoying one another and focusing on new skills such as communication, positive praise, disciple, family connections, behavior changes, substance abuse prevention and much more.
For information about an upcoming session please call us at (252) 745-7850 or email Katelyn Girard