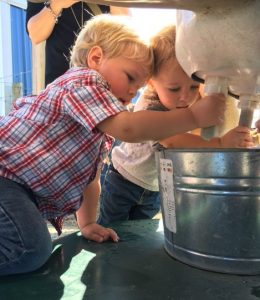 Partnership Playgroup is back with in person groups! After two years of not meeting in person due to Covid, small groups of caregivers (a limit of 10 adults) along with children age birth to age 3 are welcome in to the playgroup.
Please like  Pamlico Partnership for Children on Facebook to stay up to date on this group. The group typically meets at our early learning classroom at Fred Anderson Elementary School. The group may also decide to take things outside on a nice day.
Partnership Play Group is for all families with children ages 0-3, the child is accompanied by their caregiver (parent, grandparent, foster parent, sitter, relative…) The goal of the group is increased social interaction for the child and caregiver, early learning and parenting support. The group has fostered  beautiful relationships among families and friend over the  years.
Please contact Michelle Shields for more information, 252-745-7850 or michelle@pamlicopartnership.org